Development
Services
Reach Deaf Development Services Focuses on service delivery to young adults.
Reach Deaf Development Services
Reach Deaf Development Services focuses on service delivery to young adults.
We are committed to supporting the future development and education of Deaf/ HoH students through a programme of partnership with DCU and in accommodation services.
Currently we are working with DCU by funding the bursary support for the B.Ed. ISL pilot programme with an aim to continue supporting this into a second intake of students in 2024.
We also offer quality, affordable third level student accommodation within the campus at Cabra for Deaf/ HoH students and/or students studying in the wider area of studies associated with the Deaf/ HoH e.g. students at the Centre for Deaf Studies (Trinity).
In addition, Reach Deaf Development Services is offering model for independent living in the final year of school for boarding pupils, giving them an appropriate level of autonomy and independence in preparation for life outside of Holy Family School and Reach Deaf Services.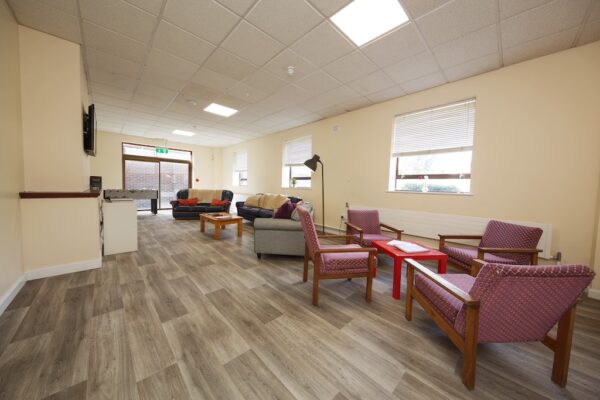 Accommodation
Reach Deaf Services provides 3rd level student accommodation for Deaf/Hard of Hearing students and students engaged in Deaf related studies. The accommodation is on the Deaf Village Campus and has a mix of single and shared rooms, some en-suite.
If you or anyone you know is interested in finding out more please send an enquiry to accommodation@reachdeafservices.ie.
Ester Foy House
Ester Foy House complex consists of 11 good sized rooms of which 8 on the first floor are en-suite.
Each room has a desk and chair with access to wifi and wardrobe.
Three bedrooms are on the ground floor with shared bathroom facilities. One bathroom is a wet room and wheelchair accessible.
The house offers a large shared living area as well as a dining area and modern fully equipped kitchen and laundry room with individual presses for each student.
In addition, the house has a large outdoor space with patio and seating.
The house is within a 5-10 minute walk to the Deaf Village Complex and sports and leisure facilities, Primary Care Centre, bus stop to the city centre and blanchardstown, shops and Library.
Amenities
Internet
Kitchen: Shared with 3 ovens, 3 hobs, 3 fridge/freezer, microwave, toaster & kettle. Each student should bring their own pots, pans, tableware and cutlery. A lockable press will be provided for each student to store their dry food stuffs etc.
Laundry: Shared washing and drying facilities will bez provided within the house.
Living area
Area:The accommodation comprises a large shared living space as well as separate dining space with table, chairs, sofa and coffee table. TV: Shared 50" Smart TV.
Appliances: Shared Iron, vacuum cleaner.
Outdoor area
Shared garden with patio and ample garden for relaxation