Lord Mayor's visit to Holy Family
23.05.17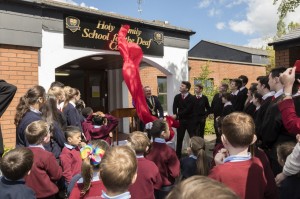 A newly amalgamated school in Cabra, Dublin, was visited by the Lord Mayor of Dublin Brendan Carr, who declared it "by far the friendliest school he has ever visited".
The new Holy Family School for the Deaf is the result of a decision to merge the two well-known schools for the deaf, St Mary's School for Deaf Girls and St Joseph's School for Deaf Boys, which share over 170 years of history.
The successful amalgamation was the result of many years of work by teachers, parents and its trustees, the Catholic Institute for Deaf People.
The Lord Mayor, who lives very close by to the school campus just off the Navan Road in Cabra, told all those in attendence that "hand on my heart, this school is by far the friendliest school I has ever visited. The Lord Mayor and the neighbour Holy Family School now have a friend".
He then whisked off the new school sign, which was handmade to a very high standard by Transition Year Students and their woodwork teacher Tom McGinn
In her speech, school principal, Eimear O Rourke, said that the 170 years of expertise in Deaf education delivered by these Cabra schools have educated thousands of Deaf children from the length and breadth of Ireland. The Cabra Schools as they were known internationally put this small corner of Dublin firmly on the map.
The Lord Mayor visited a wonderful display of work by the boys and girls of the Holy Family School for the Deaf, and he also got to perform with the school's award-winning deaf choir and its conductor, Shirley Higgins, by signing a famous Dublin song Molly Malone: "Crying cockles and mussels alive a-live O".
There was a wonderful atmosphere around the school as the Lord Mayor went to meet the students, some of who are taking a short break from their Leaving Certificate studies. Transition Year student Ronan McDonough (16) the president of Holy Family Youth Toastmasters Club told the Lord Mayor about the benefits of the Youth Leadership Programme, not least that it gave him the confidence to say "he hopes to take over his job one day".
Two students from the primary school Caoimhe O Connell (10) and Ava Lawler (12) presented the Lord Mayor with two beautiful abstract art pictures of the Dublin city landscape.
The Irish Times did a coverage on it.Click on the link below
http://www.irishtimes.com/news/ireland/dublin-deaf-school-choir-sign-molly-malone-1.3089231